OUR TEAM
Meet The Professionals
Our Team at Macduff Dental
Isobel J Mutch BDS. PGDip(ImpDent) GDC Reg. 58927 – graduated from Dundee University in 1984. She gained a Diploma in Dental Implants from Warwick University in 2010.
Since establishing the practice in 1988 she has seen it expand from single-handed to now four surgery unit.

Jennifer Wetherall BDS. GDC Reg 79681 – graduated from Dundee University in 2001 and spent her first year in practice at Macduff. She returned in 2004 to cover maternity leave and has stayed with us an associate. Jenny is presently working towards an MSc in Advanced General Dental Practice
Elizabeth Foad BDS. MSc MFGDP(UK)  GDC Reg 83972 – graduated from University College Cork in 2004. Elizabeth gained her MSc in Aesthetics from Kings College, London and compliments her dentistry with facial aesthetics. She is accredited with the Save Face Practitioner Quality Assurance mark.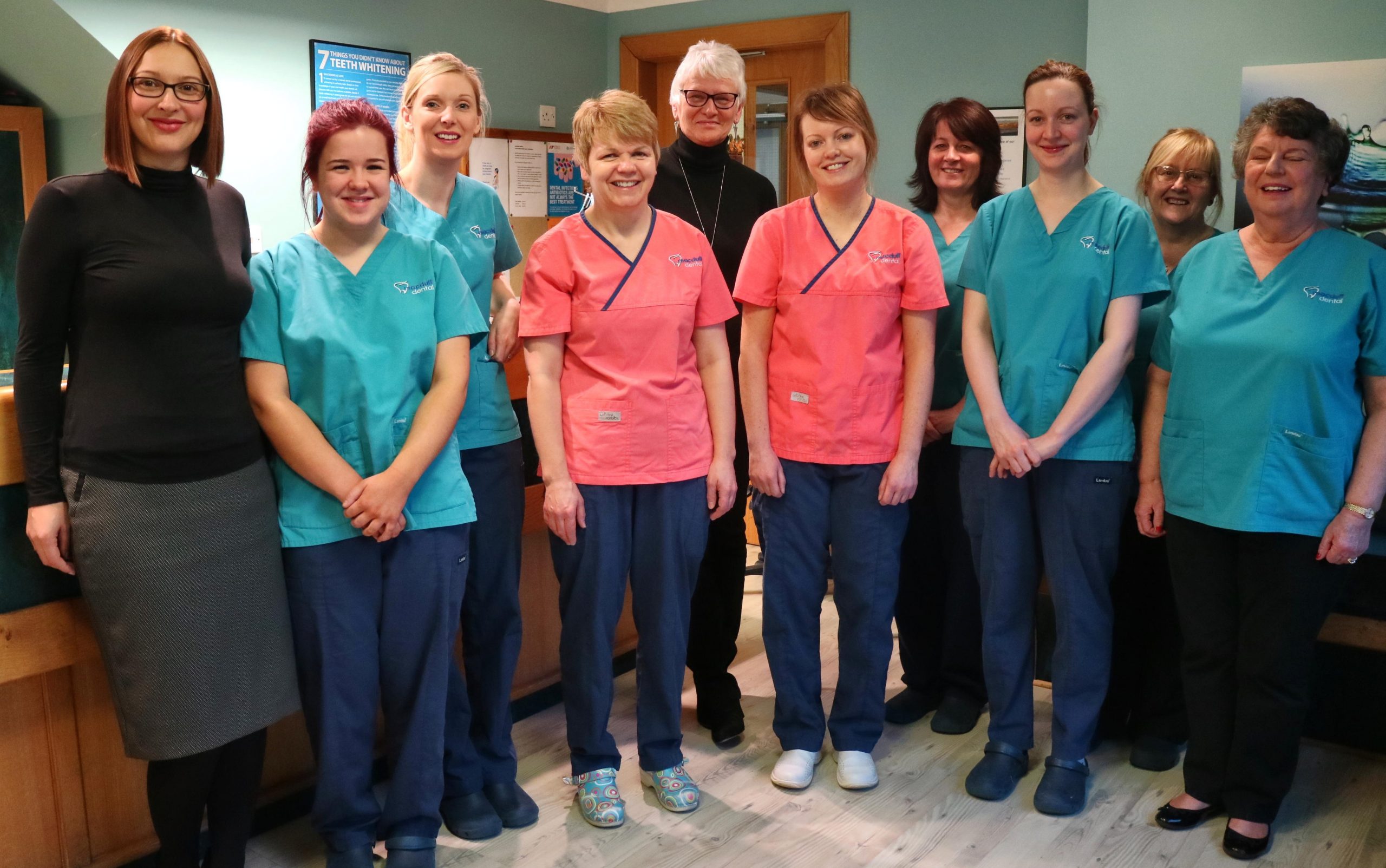 HYGIENISTS
Fiona C Christie EDH. GDC Reg 5430 – graduated from Glasgow Dental Hospital in 1998. Fiona started with the practice in 1995 on leaving school as a dental nurse prior to studying for her Hygienist degree. Fiona is presently on maternity leave.
Fi Wilson-Brinton EDH. GDC Reg 2591 – graduated in 1983 from RADC. She joined the practice in 2008 and works with us on a part time basis
Susan Jones EDH. GDC Reg 4615 – graduated from RADC. Sue joined us in 2013 and also works at the practice on a part time basis
THE DENTAL NURSES
Margaret Gray is our Head Senior Dental Nurse and has been with Isobel from day one! GDC Reg 124827
Alison Greenlaw joined the practice on leaving school  in 2000 She gained her National Dental Nurses Certificate in 2002 and Radiography Certificate in 2007. After having her two lovely children she continues to work for us on a part time basis. Alison is our Childsmile nurse gaining her qualification in 2015. GDC Reg 122272
Vera Park joined Macduff Dental in 2003 and has many years dental nursing experience. GDC Reg 122281
Shona Christie joined us in 2006, having returned to dental nursing after a long break to bring up her family. She gained her National Dental Nurses Certificate in 2008 and her Radiography Certificate in 2009. GDC Reg 140923
Victoria Rennie joined us as a Trainee Dental Nurse in September 2010. She gained her National Dental Nurse Certificate in 2014. GDC Reg 243272
Chloe MacGillivray Trainee Dental Nurse arrived at Macduff Dental in September 2014 and is currently working towards her National Dental Nurse Certificate.

PRACTICE MANAGER

Linda Morton joined Macduff Dental in 2004. She has many years' experience in business management and gaining a Professional Development Award in Dental Practice Management in 2010.
RECEPTIONIST
Kelly Griffiths the newest member of the team arrived at Macduff Dental in November 2015